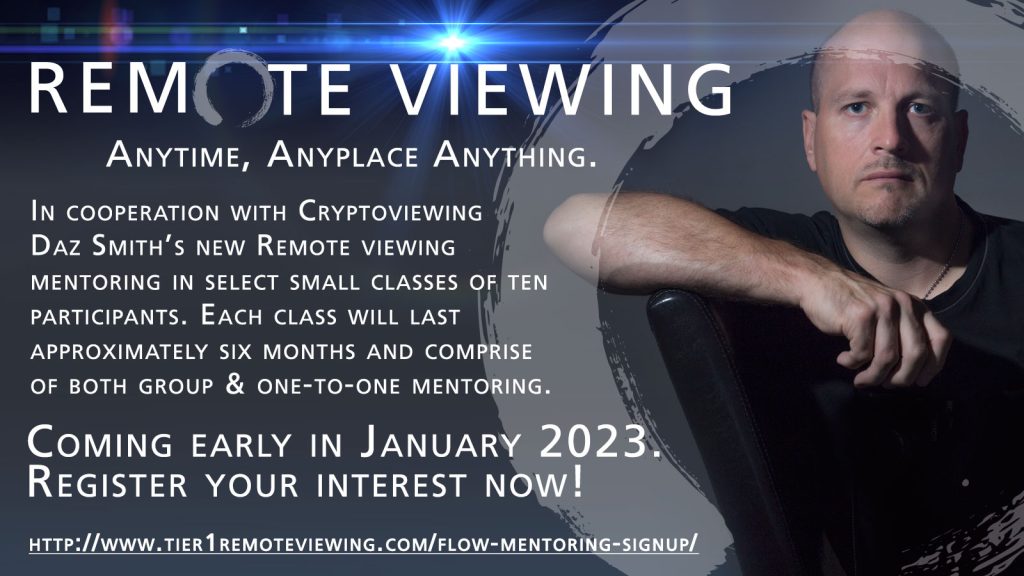 Hi Im Daz Smith.
Many of you know me as a long time remote viewer with over 26 years remote viewing background and the last decade or working client and operational projects.
Now, After a couple of years of only offering a select few people personal RV mentoring – I have decided with the support of Cryptoviewing to offer a larger but still & small select remote viewing mentoring class.
Each class will be limited to ten individuals, and they will comprise at least six months of intensive group and one-to-one remote viewing mentoring by myself. I will mentor you in 'flow' – which is my adapted practice of Ingo's CRV, adapted by me with a more progressive philosophy & understanding and also small changes to some of its tools based on my decades of using RV for real-world solutions and needs. In essence, my 'flow' mentoring and practice has a core of Ingo's CRV but a heart of Zen and the acceptance of change, of expression, of individuality, and of the symbiotic growth of the user with the RV process.
We will cover remote viewing history, Ingo's CRV, my adaptions and philosophy around RV, and You will engage in up to 100 training sessions and group work. You will also be invited into a closed chat space and much more. My aim is to get you to a level whereby you can then take this amazing tool and to start to explore the universe and to use this for your very own goals & needs.
If this interests you then please contact us on the link for signup to the very limited availability.